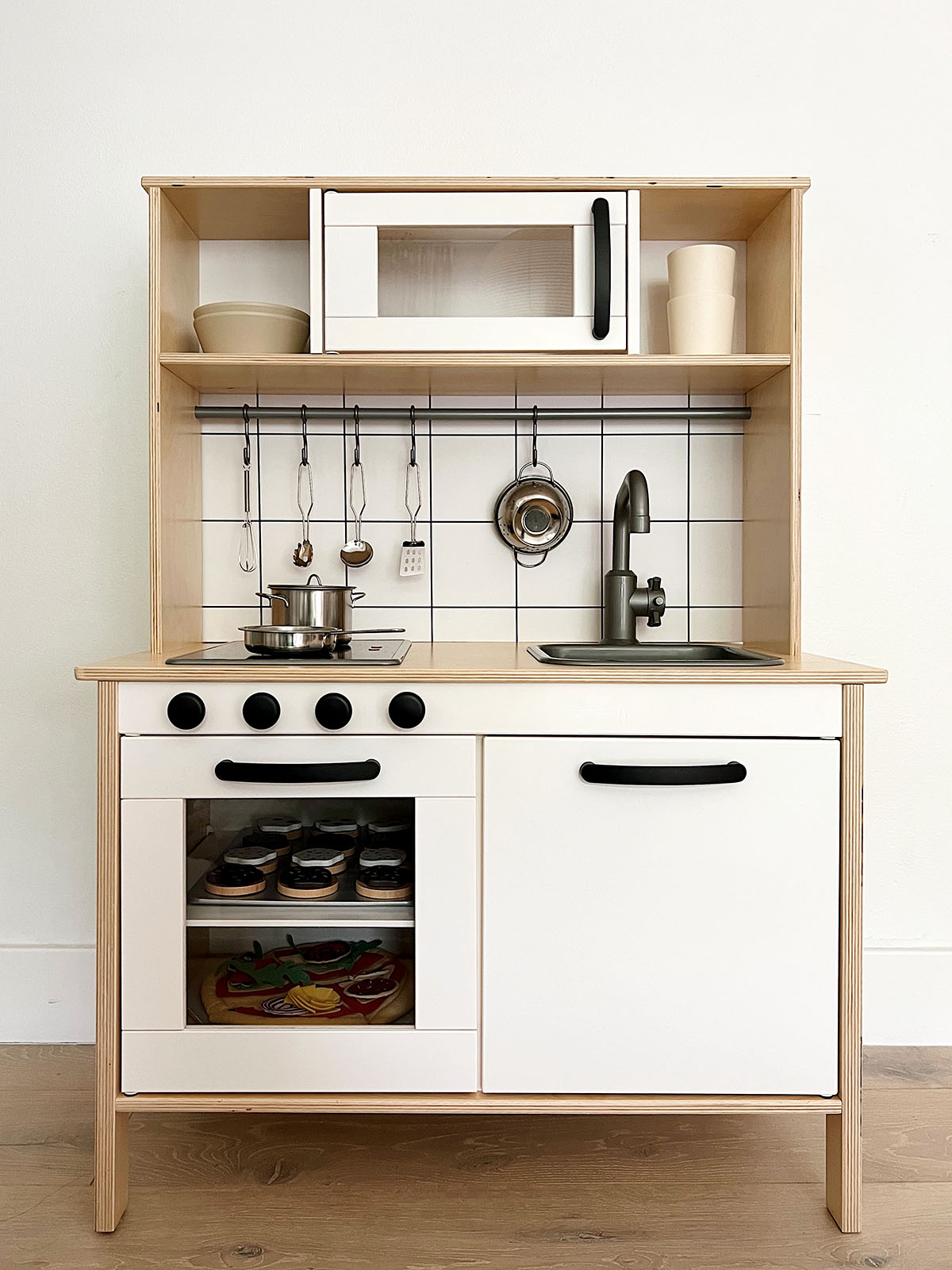 Do the dreams you had when you were a kid still stick with you? One of mine was having my own play kitchen, and what better way to make it come true than for your own kid?? I was so eager to put this play kitchen together. It brings me incredible joy and felt like it was possibly more for myself than it was for my son (ok fine, it's for me!!) but so far he's already having a lot of fun with it and it makes me melt!
I chose the IKEA DUKTIG Play Kitchen for 4 reasons: 1- I like the way it looks. 2- It would be easy to make modifications to it. 3- I knew Orion would love pushing those buttons to turn on the burners (and I was right). 4- That utensil rail!
In general I knew he'd LOVE opening and closing those doors as he does with all the cabinet doors in our home, so though he's a little young right now to understand that this is a "kitchen", I was positive he'd appreciate having his own designated cabinet unit to mess around with (I was right again!)
While I titled this a "hack", it's more like simple modifications. I didn't drastically change the look of the kitchen but made a few small changes to customize the look and add a fun little feature that I was sure he would like.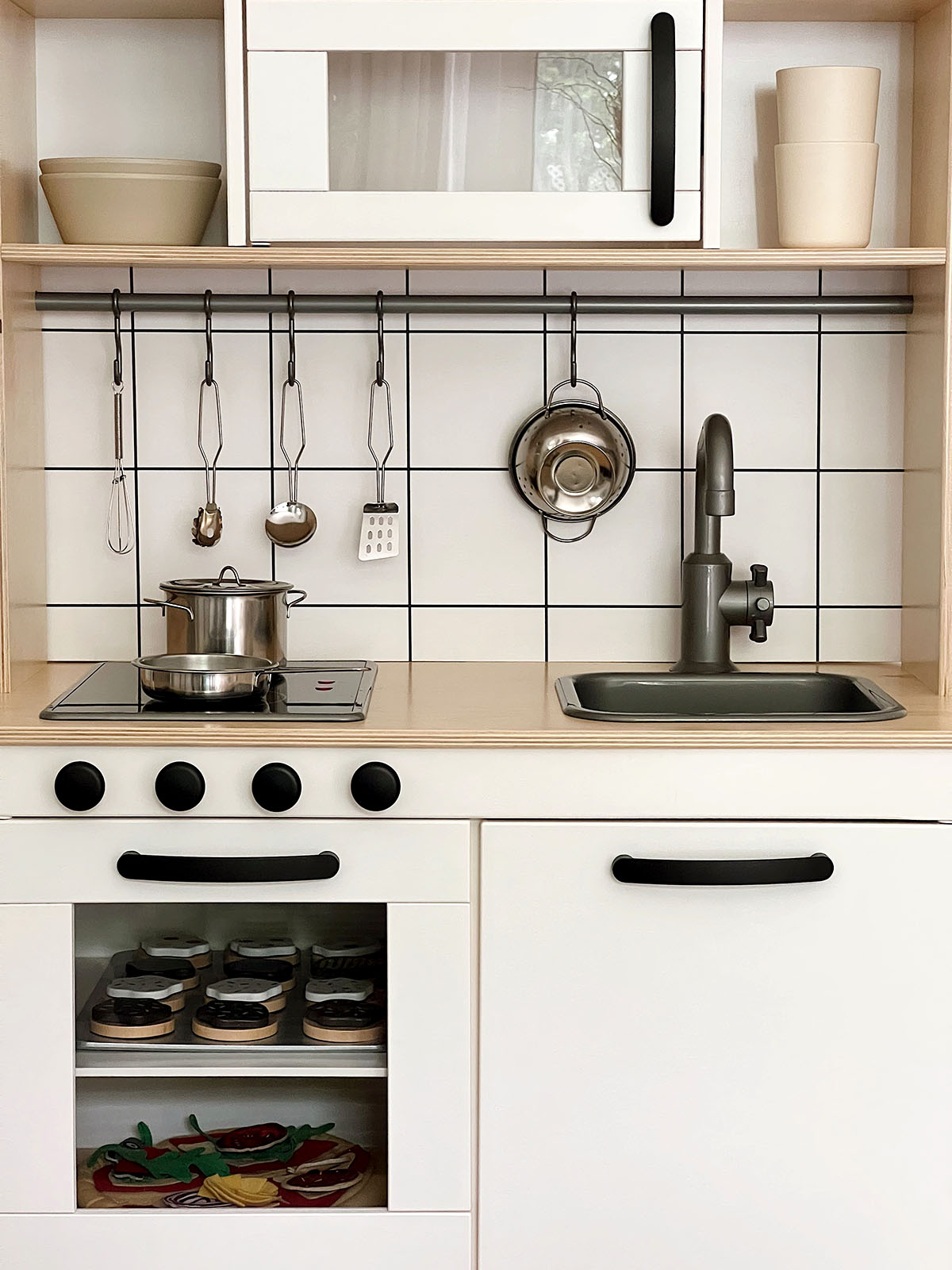 I switched out the plastic handles for these black handles, and I added these cabinet knobs to act as "burner knobs" and didn't tighten them all the way so that Orion can turn them. As suspected, he loves this feature. I also find the knobs simply look nice.
The backsplash is foam board with grid wallpaper applied on it and I attached it to the back of the kitchen with a staple gun. Other than liking how it will protect our wall from scratches that might occur from hanging things on the utensil rail, I love the subtle pattern that kind of looks like tile.
That's it for the "hacks", easy! More than the kitchen itself, I was excited about the accessories. That's really what this is all about it. Mini things are always cute but mini play food… devastatingly cute.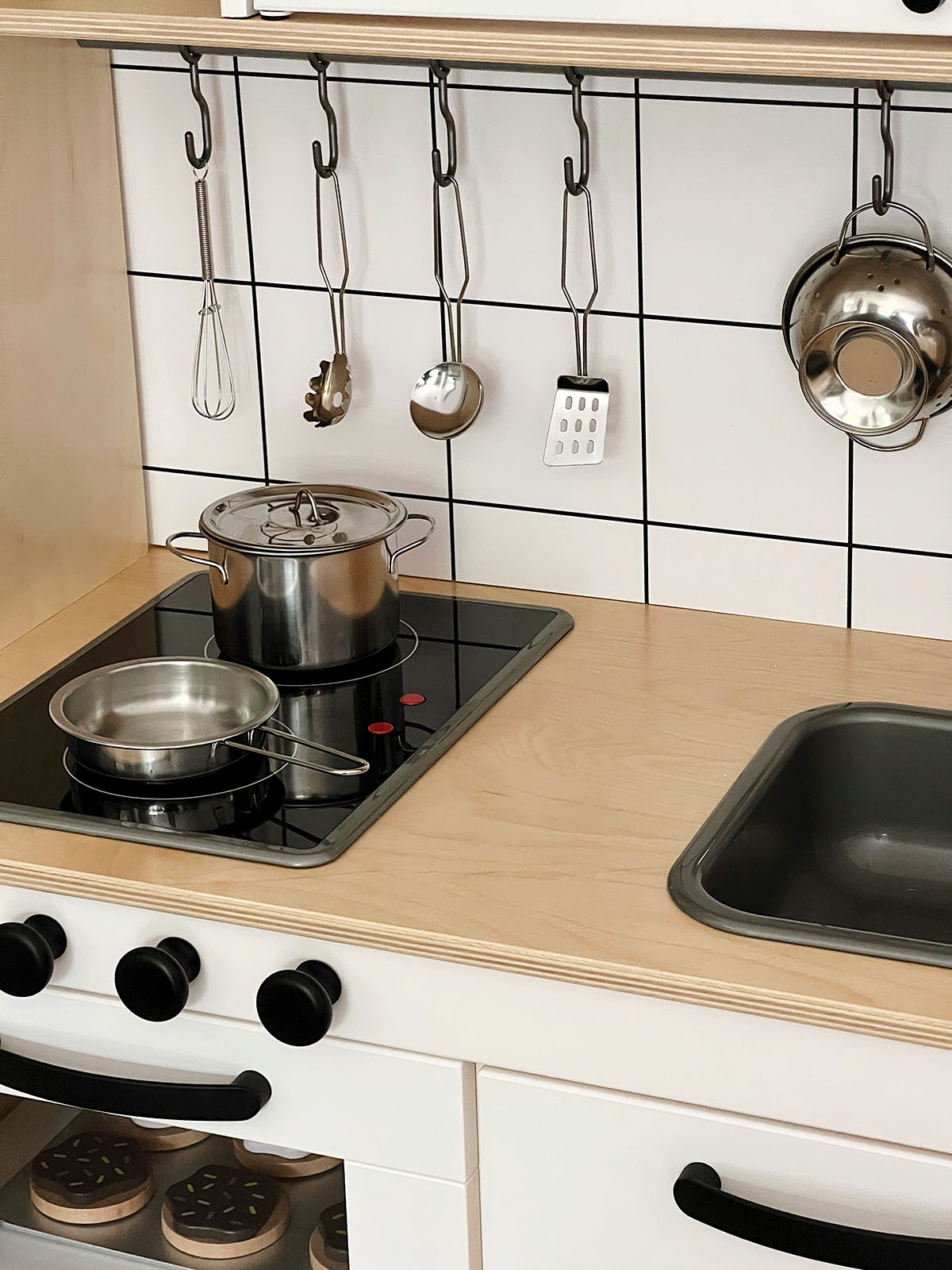 I originally had my heart set on the DUKTIG cookware set for a while and prefer how the items in that set are slightly bigger, but it has been sold out for so long and still is. So, I went with the Ferm Living cookware and kitchen tools set which includes the pan, pot, colander, 4 metal utensils, and 2 wood utensils. Despite the items being smaller than I expected, Orion LOVES this set. Probably loves that frying pan the most.
This felt pizza, which Orion has played with for a while now, is an underrated toy. Sure, picking up all the toppings everyday from wherever he's strewn them about and hid them drives me crazy, but the focus with which he applies the toppings on the pizza (sometimes) and then proceeds to pick up a finish sliced and pretend to eat it is magic. He also likes mixing a "soup" in one of the pots using different combinations of these toppings. 10/10.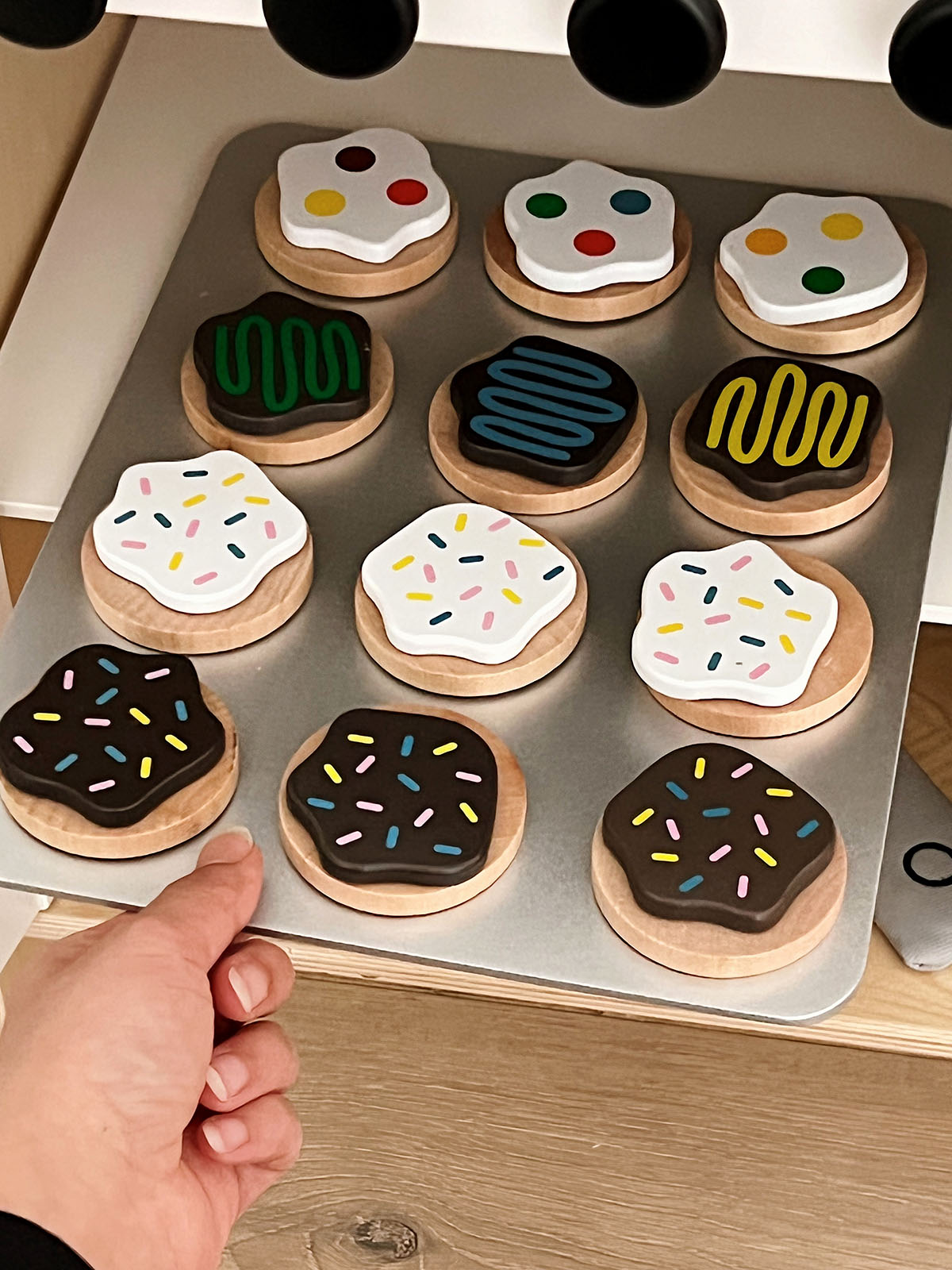 The wooden cookie play set was going to be a guaranteed hit because of the velcro attachments between the icing, cookies, and tray, and it also came with a spatula, large knife, and an adorable gingham oven mit. Once I showed him he could use the spatula to scoop the cookies off the sheet, it became his multiple-times-a-day routine to fling them all off.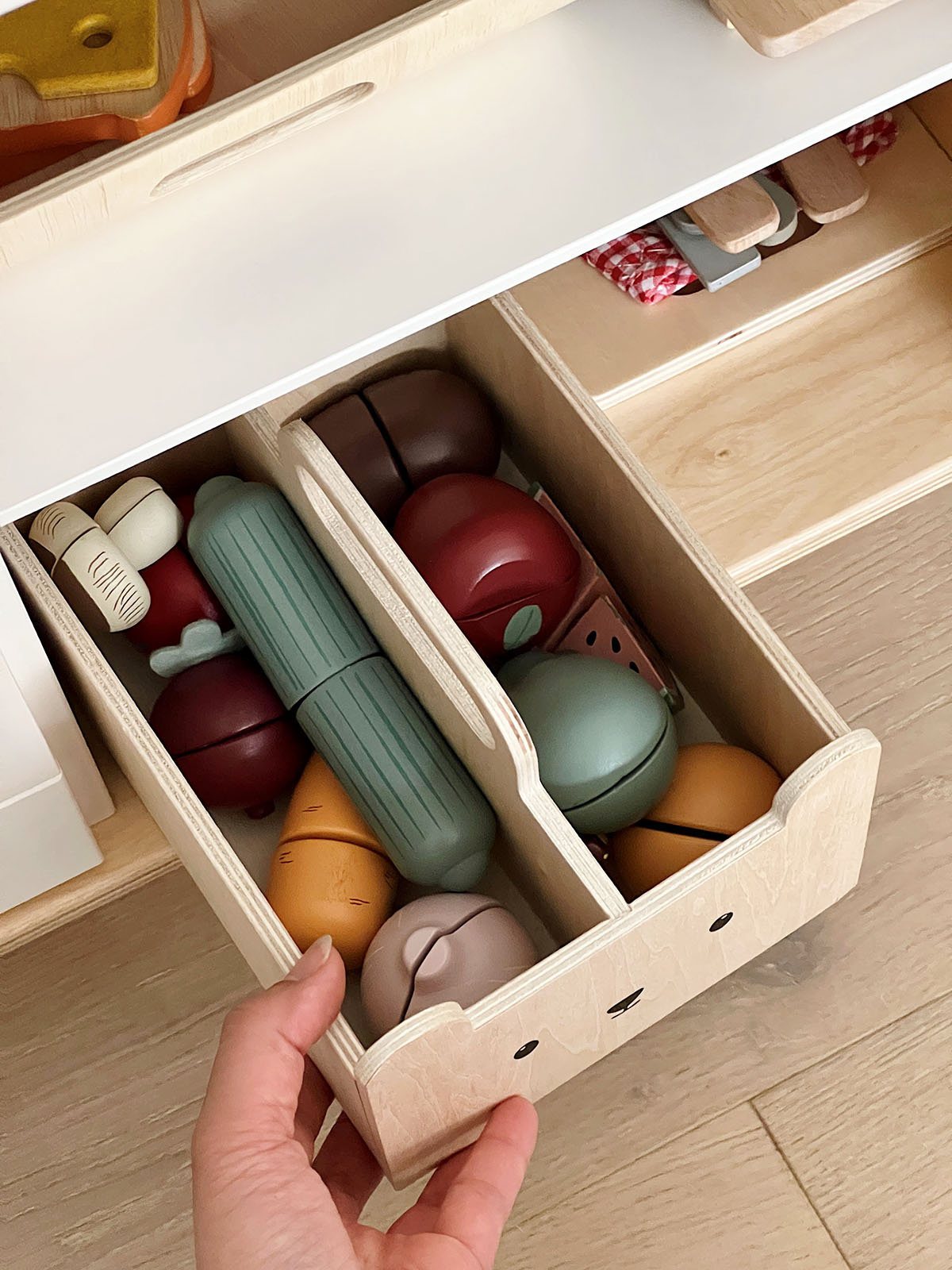 The cutting fruit set and cutting vegetables set each came with a knife and cutting board. He's had these for a while and that's why I knew he's into velcro things. Loves pulling them apart by hand. Stored them in this adorable bear box.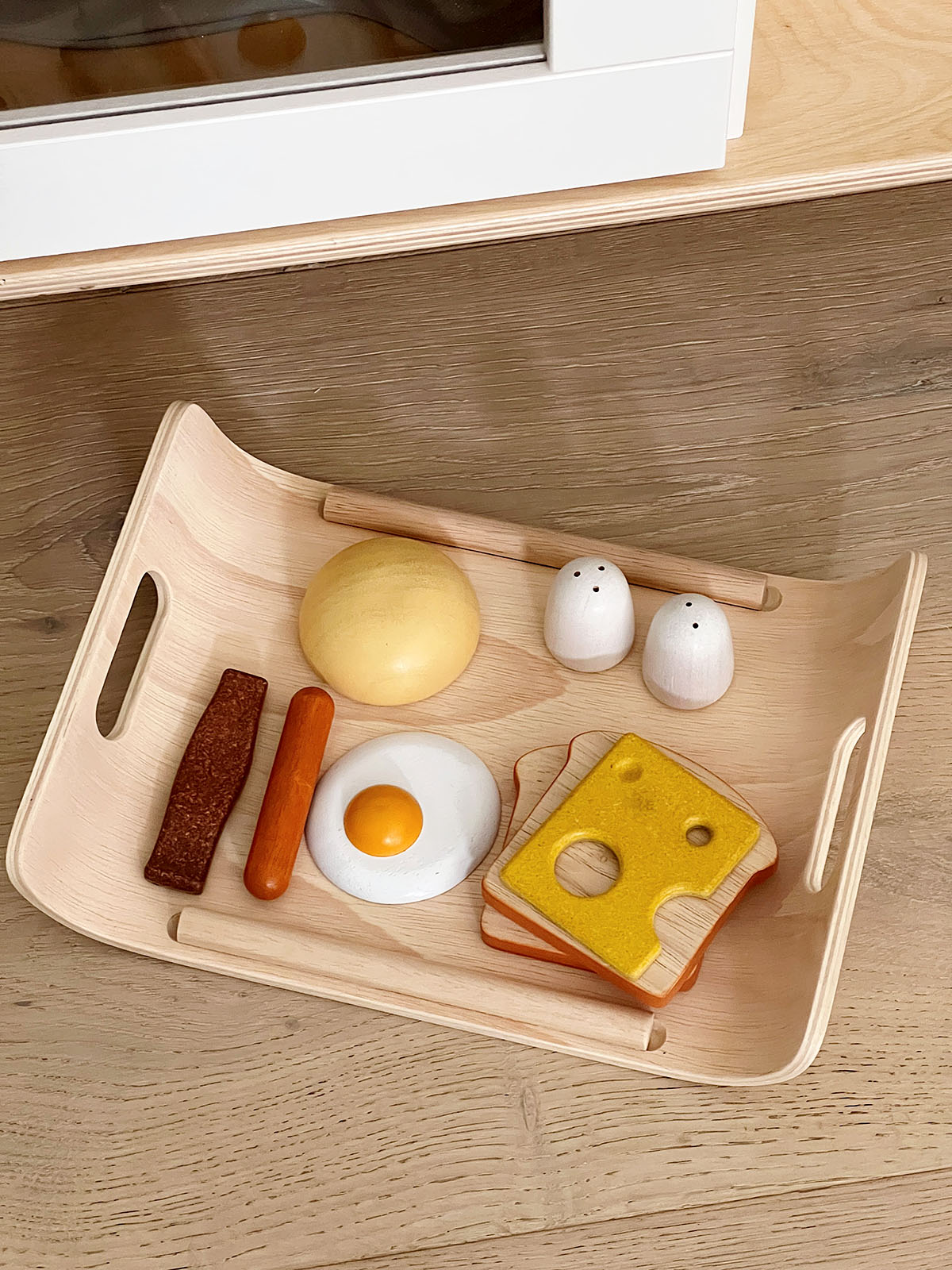 The breakfast set is my personal favorite, and I didn't know that the salt and pepper shakers make shaking noises, which Orion enjoys very much. Note, there's supposed to be a hard boiled egg in this set but it's missing.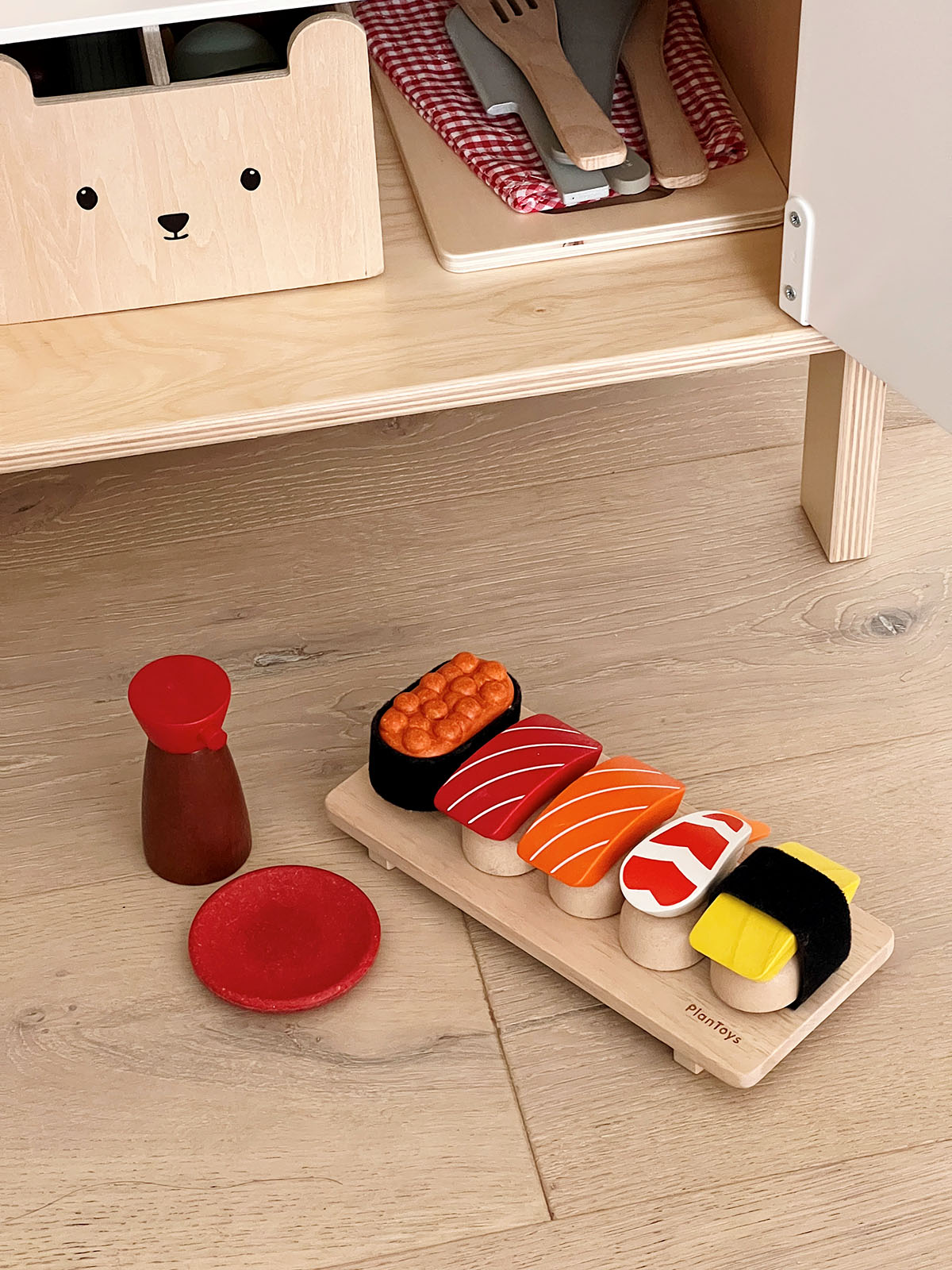 Wait I lied, this sushi set is my favorite. And actually, THIS is the toy that taught me Orion loves velcro things. We gave these sushi pieces to him earlier on in his life to keep him busy during diaper changes ha!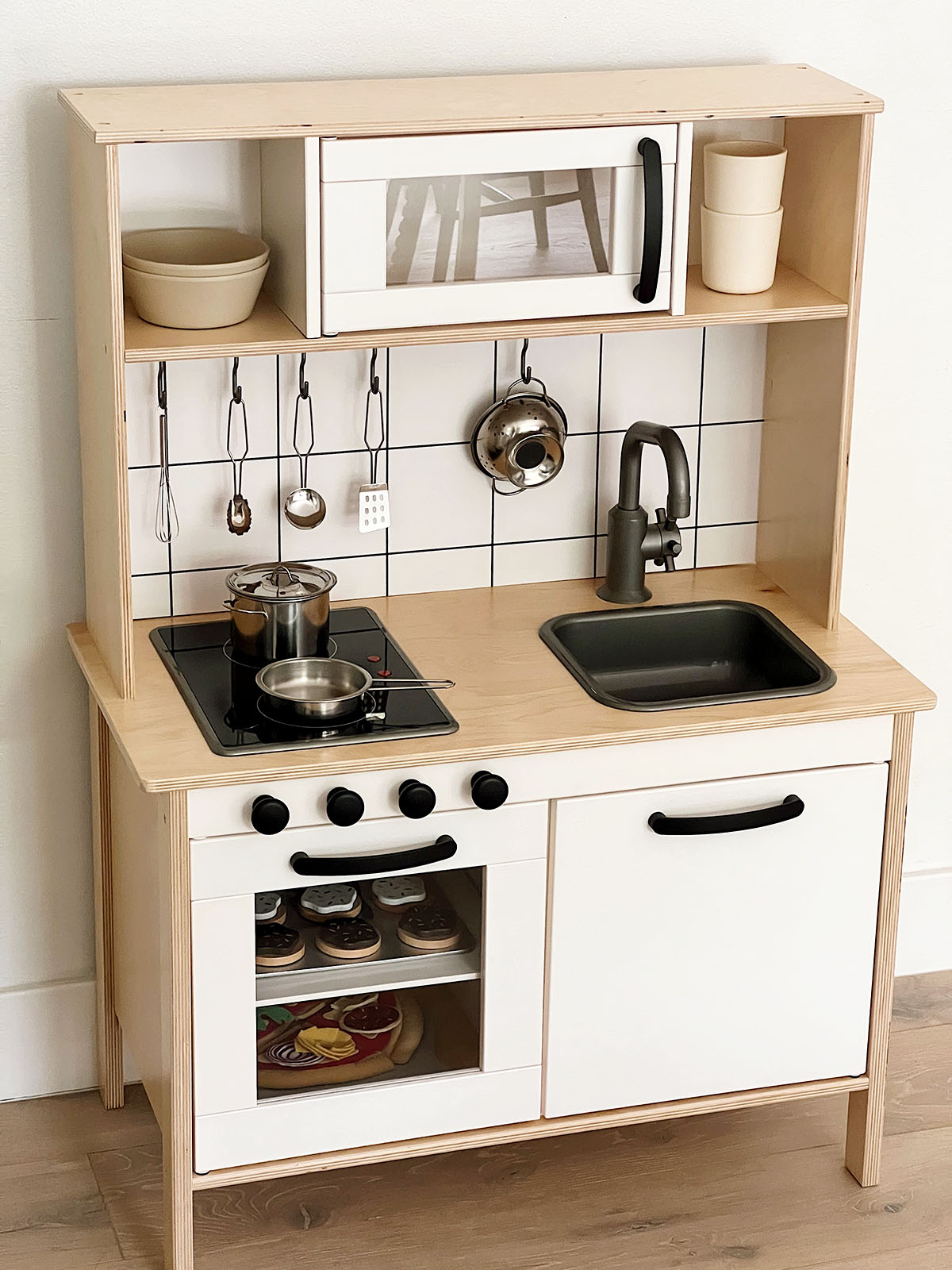 The bowls and cups are ones Orion actually uses and he's pointed up at the bowl when it was snack time which made me think I'll maybe store those on a lower shelf for him to retrieve himself during snack and meal times. I certainly see this kitchen having another life in the near future as a more functional sink/pantry/worktop/cupboard for Orion, but for the time being it's essentially a fun cabinet full of his food-related toys.